Alappuzha beach is one of the most popular spots in the district of Alappuzha. Its beautiful garden on the shore gives an exclusive sight. Imposing buildings of a colonial past overlook the shore. The pier, which extends into the sea is more than 140 years old and is a rare sight. Dense Palm groves at one end and an ancient towering light house at the other, Vijay Park and Sea view park are all spectacular sights one should never miss. Boating Facility is available in both Parks.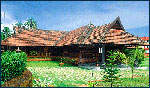 Facilities at the Vijaya Beach Park: Boating, a children's park with toy train and bicycles. Open from 1500 - 2000 hours.To View the landscape beauty , monuments, temples,churches and industries of Alappuzha by cruising through its rivers,canals and backwaters.The starting point is from Alleppey and the finishing point is at Jetty . Alappuzha district is proud of being the cradle of boat races. All the important boat races, namely the Nehru Trophy boat Race at Punnamada, the Payippad near Haripad, the Thiruvandoor, Neerettupuram, Karuvatta and Thaikkoottam boat races are held at different parts of the district during August-September . Thousands of people from all parts of the world come and witness these races.

located at a distance of 47 km from Alappuzha on the way to Kollam, this palace was built in the 18th century during the reign of Marthanda Varma. This palace is noted for its typical Kerala architecture, with gabled roof, dormer windows and narrow corridors. Here you will find the famous mural kept in the western end of the ground floor, called 'Gajendra Moksham' which is the largest mural in Kerala. There is also a museum of antique sculptures, paintings and bronze articles in the palace.

The region is known as the 'Rice Bowl of Kerala'. It is perhaps the only region in the world where farming is done below sea level. The boat trip to Changanacherry passes through this beautiful and fertile region.