This beautiful High range district of Kerala is geographically known for its Mountainous Hills and Dense Forests. For the people of Kerala, Idukki is always associated with Power Generation. About 66% of the State's Power needs come from the Hydroelectric Power Projects in Idukki. Idukki accounts for 12.9 percent of the area of Kerala and only 3.7 percent of the population of Kerala. About 50% of its area is Reserved Forests.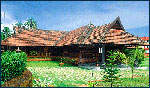 he highland district of Kerala has enough and more attractions to offer the tourists with its mountains, valleys, dams,forests, wildlife, orchids, streams,
scenic points, trekking trails, sanctuaries,hill stations,lakes and much more.Idukki is a much sought after hill station in Kerala,and a spice planter's delight, with vast sloping territories of spice plantations of the order of tea, coffee, cardamom, cinnamon , etc, holding forth as its beauty flagships.

This place is surounded by three rivers of the order of Periyar, Thalayar and Thodupuzhayar. Being a place of extreme natural beauty, it is upto the traveller to explore this place as a hill station for numerous treks, picturesque scenes, verdant surroundings and the much-in-demand and popular elephant rides through the dense jungle.

Idukki wildlife sanctuary spreads over an area covered by Thodupuzha and Udumpanchola taluks which is again spread over an area of 77 sq. kilometers, with Idukki stationed at a commanding height of 450-750 kilometers above sea level. Animals of the order of the bison, jungle cat, wild dog and wild boar are there to be witnessed in their natural habitat and in gay abandon.