The tourism potential for Kannur district is high. The St. Angelos Fort in the Kannur Cantonment, which was constructed in 1505, is a symbol of Portuguese architecture and attracts plenty of tourists. The Thalassery Fort is an important tourist centre. Kannur beach and Ezhimala are known for scenic beauty. Places of historic importance, like the house of Gulldert, who composed the first Malayalm- English Dictionary and the mosque at Madayi constructed in 1124, using marble brought from Mecca attract many tourists.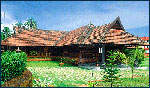 Fort St. Angelos
Fort St. Angelos is in the west of Kannur town. It was built in 1505 by the first Portuguese Viceroy, Don Francisco De Almeida, with the permission of the Kolathiris, on a promontory jutting into the Lakshadweep sea. The Dutch captured the fort in 1663 and sold it to the Ali Raja of Kannur in 1772 and in 1790 it came into the possession of the British. The British rebuilt it and made it their most important station in Malabar . This fort is in a fairly good state of preservation, though parts of it have collapsed. A few obsolete guns areseeh at the place. The fort is a protected monument under the Archaeological Survey of India.

Thalassery Fort
The British arrived in Thalassery in 1683 and errected a goods shed there. They shifted their ommercial capital to Thalassery from Kozhikkode, following obstruction from the Dutch. In 1700, the British built the Thalassery Fort on a small hill called Tiruvellapadkunnu and in 1708, it was strengthened by increasing its height and with bastions. The fort is square structure built of laterite and is distinguished by its massiv ventilated walls and strong flanking bastions. It was here that Raider' captain was imprisoned.The famous St. John's Anglican church is behind this fort.

Muzhappilangad Beach (15.K.M from Kannur and 8 K.M from Thalasseri):
Black rocks protect this long ,clean beach from the currents of the deep, making it shallows waters a swimmer's paradise.Perhaps this is Keralas only drive- in beach. Where you can drive entire length of 4 K.m.

Payyambalam Beach Resort
The Payyambalam beach is one of the beautiful beaches in this State and is an ideal place to spend evenings, irrespepcti ve of seasons. It is very near Kannur town. ,The mortal remains or' Swadeshabhimani Ramakrishna Pilla, A.K. Gopalan, K.P. Gopalan, Pamban Madhavan and K.G. Marar are laid to rest near this resort.