Kozhikode District: Once the capital of the powerful Zamorins and a prominent trade and commerce centre, Kozhikode was the most important region of Malabar in the days gone by. Today, lush green countrysides, serene beaches, historic sites, wildlife sanutaries, rivers, hills, a unique culture and a warm, friendly ambience make Kozhikode a popular destination.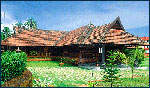 Kozhikode, also known as Calicut, is a city in the southern Indian state of Kerala. It is the third largest city in Kerala and the headquarters of Kozhikode district. During the Middle Ages, Calicut was dubbed the "City of Spices" for its role as the major trading point of eastern spices.[1] Kozhikode was once the capital of an independent kingdom, and later of the erstwhile Malabar District.

Kozhikode has a population of 436,556 as per 2001 census, with an extended metropolitan population of about 0.9 million, making it the third largest urban agglomeration and the third largest city in Kerala. According to data compiled by economics research firm Indicus Analytics on residences, earnings and investments, Kozhikode ranked as the second best city in India to reside in. Indicus considered six parameters – health, education, environment, safety, public facilities and entertainment – for preparing their 'reside-in' index of liveability.

Kozhikode Beach
The beach at Kozhikode is not yet overdeveloped. It remains a popular retreat for local people. There are two sea piers, almost 125 years old extending well into the sea. There are some nearby parks like the Lions club, and children's park. It is possible to watch fishermen with their small rowing boats entering the sea, fighting the waves and returning with their daily catch of fish.