Pathanamthitta is a town situated in the very heart of the Central Travancore region of Kerala State, India.It is the administrative capital of The Pathanamthitta District. The town has a population of 38,000. It is known as the 'Pilgrim Capital of Kerala'. Pathanamthitta is a fast-developing town and business center. It is the main transport hub to the famous Hindu pilgrim center of Sabarimala. The main trunk road to Sabarimala is from Pathanamthitta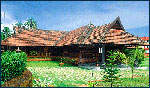 Punalur-Pathanamthitta-Muvattupuzha Road/SH-08) and T.K.Road (Thiruvalla-Pathanamthitta-Kumbazha Road/SH-07) pass through Pathanamthitta. Pathanamthitta is a cosmopolitan town, with people of different faiths like Hindus, Christians, and Muslims living in harmony. Pathanamthitta District has a communal break up of Hindus 55.58%, Christians 40.35%, Muslims 4.03%.

Pathanamthitta is an important district capital in the high ranges map of Kerala. It is a meeting place for the agriculture based economy of the nearby townships like Ranni, Malayalappuzha, Konni, Adoor, Chittar, Kozhencherry etc. It is the market for cash crops like rubber, Coffee beans, Cocoa, pepper, Coconut, Ginger and other major products.
Pathanamthitta is the busiest "Idathaavalam" (Halting Point) of Sabarimala pilgrims. Thousands of devotees from various parts of India pass through this Town. During the pilgrimage season i.e. December-January, the town is fully active round the clock. The citizens of Pathanamthitta are known for their friendly attitude towards the pilgrims. In turn, the economy of Pathanamthitta is getting a boost.

Pathanamthitta's Central Junction serves as the meeting place. It is the very heart of the town as well as the district. The market place is also nearby. At night, a number of "ThattuKadas" (Street Food Merchants) pop-up at the Central Jnunction. Most of the shopping centers, business ventures and a mini Civil Station that houses a large number of Government Offices are all located near the Central Junction.