Thiruvananthapuram which was previously called Trivandrum is an ancient city with tradition dating back to 1000 BC. Thiruvananthapuram became the capital of Raja of Travancore in 1750. The city gets its name from the word, Thiru-anantha-puram, meaning the city of Anantha or the abode of the sacred Serpent Anantha on which Lord Vishnu, the preserver of the Hindu trinity, reclines. Thiruvananthapuram, the capital of the state of Kerala is a beautiful seaside city built on seven hills. It is located on the west coast of India near the extreme south of the mainland spreading over a total of 2,192sq.km.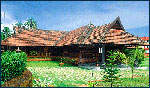 Thiruvananthapuram or Trivandrum, the southern most district in Kerala, is bordered by the Kollam district on the north and Tirunelveli and Kanyakumari districts of Tamil Nadu on the east and south respectively. Trivandrum is the capital city of Kerala, "God's Own Country". The city derives its name from the deity at the Sri Padmanabhaswamy Temple, a major landmark. This city and district are popularly known by its anglicized name - Trivandrum.

Trivandrum boasts of foremost R&D institutions of national and international importance such as the Vikram Sarabhai Space Centre (VSSC) and India's first technology park and among the two largest IT parks in India today - Technopark, Trivandrum. Technopark is the IT hub of the State of Kerala. Thiruvananthapuram is famed in the educational sector too, prominent examples being the College of Engineering (CET), Trivandrum and Trivandrum International School. CET is the largest engineering college in Kerala and one of the biggest in India. Trivandrum International School is Kerala's first and only authentic International school with International curriculum, faculty, learning environment and facilities.

Thiruvananthapuram city has grown as a tourist and commercial centre, with the Trivandrum International airport becoming the main gateway into Kerala. Being the state capital, it also throbs with political activity. Thiruvananthapuram's rich cultural heritage and its famous beaches, which include Kovalam, Shanghumugham and Varkala beaches, are one of the top tourist destinations in India.