Wayanad is the green paradise - the border world of the greener part of Kerala.Situated not far from Calicut or the city of Zamorins, Wayanad is a world apart from Keralas agricultural and industrial epicentres. It is a quiet place where scenic beauty wild life and tradition matter.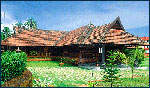 Wayanad lies at an altitude varying from 700 - 2100 metres above the sea level. The district has the highest number of tribal settlements in Kerala. The hill ranges of Vythiri taluk (taluk is a sub division of a district), through which the road from Kozhikode ascends the Wayanad plateau over the mind boggling bends and ridges, are the highest locations of Wayanad district.

Established in 1973, the Wayanad Wildlife Sanctuary is contiguous to the protected area network of Nagarhole and Bandipur of Karnataka on the northeast and Mudumalai of Tamil Nadu on the southeast. Rich in bio-diversity, the sanctuary is an integral part of the Nilgiri Biosphere Reserve, which has been established with the specific objective of conserving the biological heritage of the region. The sanctuary is very rich in flora and fauna. The management lays emphasis on scientific conservation with due consideration for the general lifestyle of the tribals and others who live in and around the forest region.