A root-conscious people of the state have preserved their past not only in the form of history books but also in the form of monuments and palaces. Places, palaces and institutions of historic value are being preserved conscientiously. A Kerala touring will leave you marvel at the exquisite architecture manifested in palatial mansions and monuments.Hanging around the ruins of dilapidated forts, temples would help you splash deep into the rich past of the state.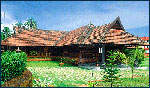 The Hill Palace Museum: The Hill Palace, the official residence of the Kochi royal family, is today the largest archaeological museum in Kerala. Built in 1865, the palace complex consists of 49 buildings in the trational architectural style of Kerala, sprawled over 52 acres of beautifully landscaped terraced land which houses a deer park and facilities for horse riding.

Edakkal Cave, Wayanad: Atop Ambukutty Hills near Ambalavayal in Wayanad is Edakkal Caves. Two caves, formed by a split in a mammoth rock- one roofed over by other- make up the Edakkal caves. For decades the caves have been the haven of archeologists.