Varkala - Kollam - Alleppey - Cohin (Cycling Tours)
Day 1 – On arrival Transfer to Varkala – Check inn at the hotel.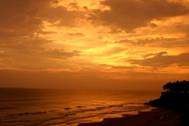 Varkala is the only place in southern Kerala where cliffs are found adjacent to the Arabian Sea. These tertiary sedimentary formation cliffs are a unique geological feature on the otherwise flat Kerala coast, and is known among geologists as Varkala Formation and a geological monument as declared by the Geological Survey of India. There are numerous water spouts and spas on the sides of these cliffs.

Day 2 – Cycling tour at Varkala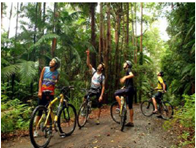 Pick up from designated point and transfer to Veli or Kazhakuttam for cycling. 7:30AM Start cycling early around via the coastal road to Varkala. En route stop for refreshments
Continue cycling through scenic locations passing by canals, beaches and paddy fields etc. 10:30AM Reach Varkala check in to a resort, relax and hit the beach for some fun
1:30PM lunch at the resort and relax. Participate in a team building game
Relax over tea and snacks. Do a short cycling trip around the Varkala Cliff Area (optional)
Leave for Trivandrum at sun down
Day 3 – Transfer to Kollam – Fragrant nature resort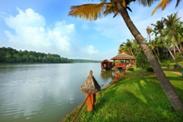 Transfer to Fragrant nature resort at Kollam, The resort is a luxury river side resort secluded and ideal for a relaxed honeymoon. The natural rural village setting of this Luxury hideaway, gives you the chance to see and experience the authentic keralean way of life.

Day 4 – Fragrant nature – Ayurveda within the resort
The lotus blossoms in the golden glow of sunshine. The water-lily spreads her petals in the silver cascade of moonlight. Beauty slumbers deep in the heart of nature, but wakes to full bloom at the divine touch of the Eternal. Come, awaken your inner divinity with the touch of timeless traditions … in Prana Spa. Undergo a an Ayurveda massage for
Day 5 – Transfer to Alleppey houseboat – Alleppey to Alleppey routing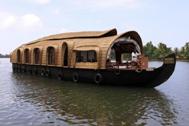 Board the Houseboat by noon and cruise through the tranquil backwaters, wider and narrow canals passing by lush green paddy fields, villages, temples, churches, rustic houses etc. giving you opportunity to view the life on the backwaters –it beats at its own gentle rhythm.
You will step into a different world altogether – this will surely be the highlight of the tour. The meals will be served on board.

Day 6 Departure transfer to Cochin Airport